---
---
Norwegian/Swedish Black metallers DØDSFALL will enter the studio next year to begin work on the follow-up to 2015's "Kaosmakt" album.
DØDSFALL`s guitarist and mastermind Is commented about the band's recording plans "We're in the middle of the songwriting, we are very excited to start working on something new after a long time. We are loaded woth new fresh ideas and different sources of inspiration"
Also added "We're smoothly approaching into the songwriting, so I think we will be hitting the studio sometime in the beginning of Autumn next year"
The band has the plan to do several shows later in 2018/2019 in support of their next álbum still untitled. DØDSFALL´s last show was at the infamous Inferno Metal Festival in Oslo, Norway as support act for Exodus and Gorguts.
"Kaosmakt" was released worldwide in January 2015 via Osmose Productions and was produced and recorded by legendary producer Tomas Skogsberg at Sunlight Studio (Gorgoroth, Old Man´s Child, Arckanum) in Sweden.
---
DØDSFALL have returned home after 15 days at Sunlight Studio.
All recordings went very good and the band feel very satisfied with the sound!
Tomas Skogsberg is doing actually the mix and later the mastering will be executed by Devo Andersson at Endarker Studio.
You can also discover the artwork for "Kaosmakt" here attached!
---
Dødsfall have finished the writing of all the music for the new album
and  have 7 songs for a total running time of 40 minutes approximately. 
The band think to enter the Sunlight Studio to do the recordings during Autumn. 
Meanwhile they are working with a session drummer for the live shows.
In July Dødsfall will have a couple of shows in Sweden and UK.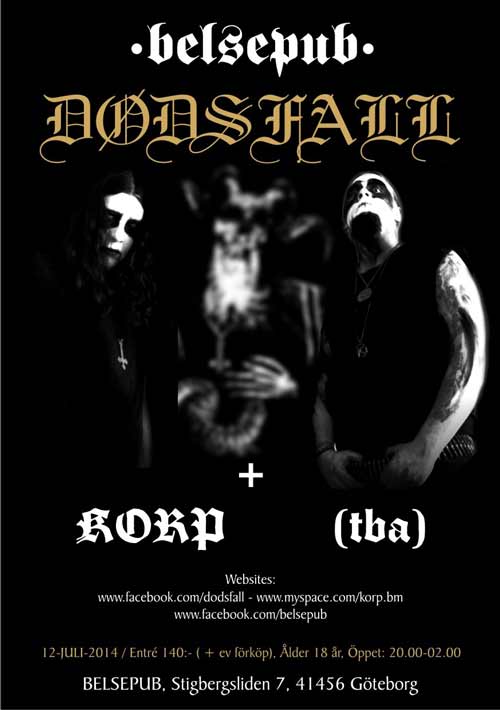 ---